In this love story, set in Paris, the successful circus clown Joe falls in love with Daisy, a dancer.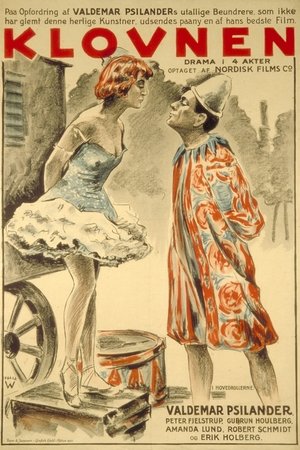 Essay by Shari Kizirian
Alone in the center ring, a white-faced clown sings. Rather than making the crowd laugh, he draws tears. This trope is as familiar today as it was in cinema's earliest days, when the circus and the cinema were more closely linked. According to Italian scholar Carlo Piccardi, "In its first decade the cinema had installed itself in carnivals, sharing its wonderful performances with the coarse spectacles presented by jugglers, acrobats and clowns. It was an often vulgar spectacle among even more vulgar spectacles…."
But unlike cinema, the clown's lineage is ancient. Since ridiculing humanity's foibles in Greek, Roman, and medieval literature, the clown has diversified into several distinct stock characters whose origins have been subsumed over time. From Pagliacci to Chaplin's Little Tramp, from Bozo to Crusty, the clown in all its variety continually pops up in our literature, on our stages, and in our moving images. The white-faced version was first introduced as Pedrolino, in the Italian commedia dell'arte, and popularized in France in the 16th and 17th centuries as Pierrot. At Paris's Théâtre des Funambules, an innovative Bohemian émigré with the naturalized name of Jean-Gaspard Deburau dressed in baggy white clothes and silently, sometimes violently, mooned over Columbine, introducing mid-19th century Europe to the lovesick clown. The absinthe-soaked poets of the Romantic period like Verlaine transformed him from pathetic to demented in a few stanzas. Russian playwright Leonid Andreyev set the 20th century bar to the grotesque with 1919's He Who Gets Slapped, about the slighted clown out for revenge. Victor Sjöström and Tod Browning via their changeling Lon Chaney brought the new, mad clown to an international audience.
A.W. Sandberg's The Golden Clown fits somewhere between the lovelorn and the macabre, its story mirroring in many ways that of the real-life Deburau, or at least his myth. Working the hinterlands in a tight-knit, family-owned circus in France, Joe Higgins (Gösta Ekman) plays a version of Pierrot, surprising the local crowd with his talent by singing a sad and beautiful song inspired by his love for the circus owner's daughter. A Somebody from the Big City happens to be in the audience and the clown goes from sideshow to star in an instant, changing the entire family's fate. They are thrust into the high life of Jazz Age Paris. Swanky hotels, fine dining, and all the couture money can buy are not enough, and the clown's once easy-to-please girl, finally his wife, seeks out other urbane pleasures. (The real-life Deburau's trouble began when he murdered a man who insulted his wife. Crowds turned out for his trial to hear the great mime finally speak. Marcel Carné later told a version of his story in 1945's The Children of Paradise.)
Shot in Denmark and France, the film is beautifully photographed by Chresten Jørgensen, with imagery ranging from naturalistic landscapes in the countryside to stunning modernist sets on the Paris stage. But The Golden Clown might owe its visual flair more to its director, a former press photographer who started at Nordisk as a cameraman in 1914. Anders Wilhelm Sandberg's career then followed the highs and lows of the Copenhagen-based studio where he worked most of his professional life.
During the years from 1910 to 1916, Nordisk produced 736 fiction films and Danish movies became synonymous with the salacious—and box-office gold. Beginning with The White Slave and Asta Nielsen's racy star turn in Afgrunden, Danish exports kept movie censors busy around the world. "From no other country is there sent out such a dung-heap of improper and morally damaging film as from Denmark," one small-town editor complained in 1913.
Similar films were fertilizer for Nordisk's fortunes and, before World War I, the studio had a sales presence on every continent and began spending money on higher production values, location shoots, big-name actors, and literary adaptations. In July 1918, the Danish author and screenwriter Aage Barfoed exhorted the film industry to follow a neighbor's example: "Sweden has accomplished the feat of creating a distinctive film genre. Now it is our turn, if we want to make our mark in the world market. And what is to be done? One thing! We must imprint our films, like all art, with Danish distinctiveness … Our literature, our painting, our music has a rich, a deep and genuine cultural tone. Seize that and make it come alive on the screen!"
Sandberg soon became Nordisk's leading director, having come up on comedy shorts and detective serials (five installments of The Man with Nine Fingers). His breakthrough film, 1917's Klovnen (The Clown), starred Denmark's renowned Valdemar Psilander, whose prodigious output totaled 83 films before he committed suicide at age 32. Released two months after Psilander's death, the original Klovnen was an enormous hit. The studio then gave Sandberg free rein to adapt Dickens novels, which film historian Graham Petrie says were the director's true passion. He made Our Mutual Friend (1921), David Copperfield (1922), Great Expectations (1922), and Little Dorrit (1924). Britain's Pall Mall and Globe Gazette called Our Mutual Friend "worthy representation of one of our best classics," but the cost of these faithful screen versions became too much for the now ailing studio. A world economy, crippled in the aftermath of war, coupled with disappointing receipts ended Sandberg's run of lavish adaptations.
In an attempt to resuscitate Nordisk's former vitality, the studio reverted to the tried and true. Remakes now filled Sandberg's schedule, including Klovnen, this time with Swedish import Gösta Ekman in the lead role, Danish diva Karina Bell as his sweetheart, and, playing her father, Maurice de Féraudy, who had made his name in Comédie-Française, cast, no doubt, with an eye to the French market. The film itself is steeped in nostalgia, eulogizing in sweet, reverent tones the tranquil days of touring the French countryside in a horse-drawn wagon. Success and city life tear all that asunder, of course, and the parallel to Sandberg's own rise and fall must have added some personal poignancy to what turned out to be the director's last Nordisk film.
He left for Berlin, making a couple films there for Terra, working again with some of his old colleagues: cameraman Jørgensen, scriptwriter Poul Knudsen, and stars Bell and Ekman. Talkie assignments came in stutters, his directing career petering out in 1937. According to the biography provided by the Danish Film Institute, he died in 1938 at a spa in Bad Nauheim, Germany, after a long illness. Assessing Sandberg's films in 1944, critic Harald Engberg surmised that the director's style had served him well in Nordisk's heyday but it might have kept him from greatness. While praising him for his craftsmanship, sensitivity, and "photographic superiority," Engberg thought he simply did not have the stuff of fellow Danes Carl Dreyer and Benjamin Christensen. "He was not a rebel and experimenter," concluded Engberg, "and altogether prey to the tastes of his time."
The white-faced clown, on the other hand, has endured, albeit as permutations that suit the time and the creator. Marcel Carne politicized him in The Children of Paradise. Jean-Luc Godard modernized him in Pierrot le fou. Christopher Nolan eulogized him in The Dark Knight. But we've not seen his end—his appeal at once his venerable ancestry and his eternal capacity for renewa
Director: A.W. Sandberg
Writers: A.W. Sandberg, Laurids Skands
Stars: Valdemar Psilander, Gudrun Houlberg, Peter Fjelstrup
or with added English subtitles